Conor Geraghty
VET
MVB Cert DHH
Graduated from UCD veterinary college in 1999. From a farm in Fohenagh, Conor returned home in 2000 and purchased Joe Connolly's veterinary practice. Since that time developed the practice and amalgamated with Gerry Neary in 2012. Conor runs FarmGate Veterinary Group with a dedicated team of six farm animal and equine vets supported by six administration and accounts staff.
Special areas of interest include fertility, herd & flock health and providing practical solutions to problems on farms. Graduated with a post grad certificate in dairy herd health from UCD in 2016.
Conor also farms a beef suckler and sheep farm and breeds horses for eventing. Interests outside the practice include hurling and veterinary politics.
Seamus Finnegan
VET
BVMS MRCVS
Seamus comes from a farming background in Williamstown, North Galway.
He qualified from Glasgow in 2012. Seamus joined a six vet mixed practice in Aryshire dealing mostly with dairy cattle but also commercial and pedigree beef herds. He gained experience working with pedigree texel sheep flocks.
He had the opportunity to move home in 2018 and joined FarmGate Veterinary Group.
In his free time, he help's at home on the family farm, plays Junior B football and hillwalking.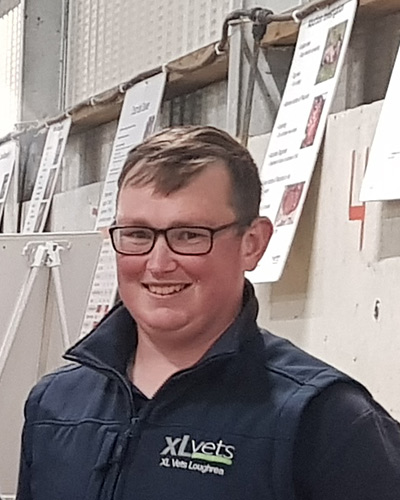 Killian Farrell
VET
MVB
Killian graduated from University College Dublin in 2017 and started working for FarmGate Veterinary Group soon after. He is from Golden in County Tipperary but lived in Waterford for the first 9 years of his life. Killian grew up on a suckler beef and dairy goat farm. He is still actively involved in the running of the operation at home. He also breeds pedigree Simmental and Charolais cattle and attends many of the summer shows.
Kilian is interested in bovine lameness, fertility and embryo transfer.
In his spare time, he enjoys watching most sports especially rugby, hurling, Gaelic football, and horse racing.
Iciar Elizalde
Vet
Iciar graduated from veterinary in Universidad Complutense de Madrid, Spain in 2018.
She has previously worked in mixed practice and with an equine sports medicine vet.
From there she came to Ireland and worked in a equine hospital.  She joined FarmGate Veterinary Group in August 2020.
Iciar is interested in all areas of equine in particular reproduction and neonatal care. In her spare time she enjoys climbing, hiking, running and almost all other outdoor activities!
Adele Mannion
Veterinary Nurse / Accounts Manager
Adele Mannion
Veterinary Nurse / Accounts Manager
RVN, VPM
Adele is a Galway girl coming from a farming background. She qualified from Athlone Institute of Technology in 2012 with a BSc degree in Veterinary Nursing and in 2013 a BSc honours degree in Veterinary Practice Management. After graduation she spent some time working as a veterinary nurse in Perth, Western Australia. She returned home and joined a mixed animal practice in Galway. In 2017 she graduated with a level 9 post grad in Business Management.
Adele joined FarmGate Veterinary Group in February 2019 as accounts manager. Adele is interested in the accounts and business side of the veterinary clinic and utilises her qualifications to ensure the smooth running of the busy day to day running of the practice.
In her spare time, she enjoys running, the gym, pet sitting and helping on the farm.
Danielle McNicholas
Student Veterinary Nurse
Danielle McNicholas
Student Veterinary Nurse
Danielle is from Corrandulla, Co Galway. In 2018 she completed a QQI level 5 Veterinary Assistant course.
She is currently studying veterinary nursing in Athlone Institute of Technology. She is interested in large and small animals but has a special love for horses and dogs.
At FarmGate Veterinary Group Danielle works part time; her duties include dealing with farmer queries and administration.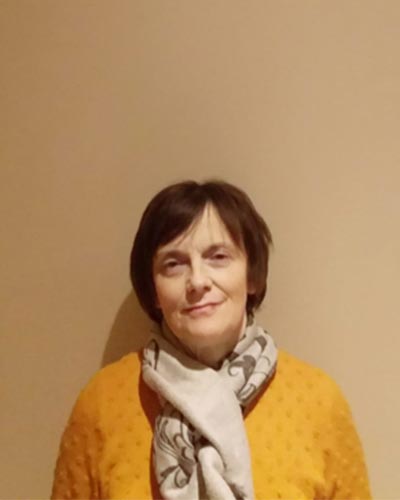 Anne Ward
Administration
Coming from a farming background, Anne has been working in the practice for 43 years. Her duties include bovine TB testing admin and dealing with client's queries. She has a special interest in helping farmers solve problems and the administration side of the business.
Anne has a keen interest in the welfare of animals. In her spare time, she enjoys ballroom dancing, cooking and walking her sheltie dog Penny.
Valerie Higgins
Administration
Valerie Higgins
Administration
Valerie hails from a farming background in Castleblakeney, Co Galway. She has worked in the veterinary practice for 20 years. Her roles include organising the weekly work schedule and dealing with farmer queries.
In her spare time Valerie is an avid Galway GAA fan and regulary attends social and set dancing events.